PKF Studios.com - Unconfortable Mystery - A Morgue Extravaganza
Nudity, Sexual Content, Crime Scene, Investigation, Postmortem Proceeders Evidence Collecting, Body Processing, Clothes Cutting, Rolling, Stages of Skin Discoloration, Body Views, Feet Examination, Feet Views, PKF Studios.com
A young woman is murdered.
There is a crime scene. The CSI's mark and collect evidence.
At the lab, the body is pre-processed. Clothes are removed. Photos are taken.
In the annex room, the body lays while the investigators ask the morgue supervisor and her assistants for info. They go into great detail looking over the body, hypothesizing theories, and most importantly--finding evidence.
Later, the body is back in the lab for further evidence collection. Feet are and toenails are scraped. The nails are powdered and impressions are taken. Vaginal swaps are taken as well as a sex kit. Clipping of pubic hair are collected. Fingers are printed. Hair is combed through. Her tongue is examined. More swabs. Body rolled. Then, final processes are complete in prep fpr autopsy.
File Name: Unconfortable Mystery.wmv
Duration: 38min 40s
File Size: 510 MB
Resolution: 1280x720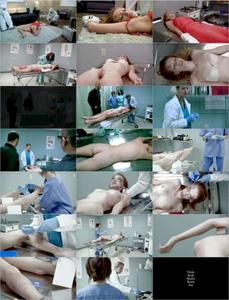 Unconfortable_Mystery.wmv